Holistic Pain Management- When it comes to managing pain, especially in our elderly pets, there is NOTHING better than an integrative approach! This means you get the very best of both worlds...you can use the non steroidal anti inflammatory medications and the morphine type derivatives to control pain, as well as injections of Adequan and even cortisone when needed. But the awesome thing about integrative medicine, is that you can use FAR LESS when you combine that with alternative therapies.
Dr. Diane loves to keep your pets' Golden Years truly GOLDEN. Using blood work to assess the health of the kidneys and the liver, she determines how well your pet can tolerate traditional medications. And then she combines these therapies with all sorts of alternatives to have a great synergistic effect.
Chronic disease like Lyme Disease and auto immune diseases are Dr. Diane's forte as well.
And the treatment of pain in cats is of particular interest to her. There are MANY things she can do to alleviate the pain of arthritis in an older cat when there are few options in the traditional practice of medicine for our feline patients.
Acupuncture, chiropractic, cold laser therapy, herbal remedies, essential oils, hot and cold stone massage therapy....they all work marvelously together to help your pets feel less pain. And Dr. Richter understands that one therapy may work better in one patient than another, so she does not require you to sign up for a lot of treatments at once, but allows you to tailor make a therapy program that works best for YOUR pet.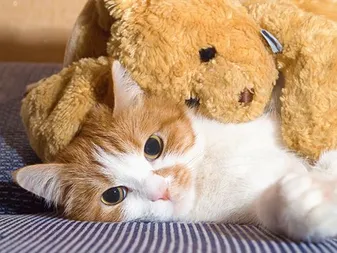 Because of all of the access to alternative therapies, many clients come from far and wide to let Dr. Diane relieve their pet's chronic pain. Let us help your baby find some relief and act like a puppy or kitten again!